For Fragile Instruments and Electronics
Pelican-Hardigg™ Rack Mount Cases are world renowned as the toughest, smartest transport systems available for commercial, industrial and military shippers. Our innovative design process and rigorous testing methods continue to result in superior patented advancements that ensure your vital, sensitive and expensive electronics remain protected. -Hardigg™ Rack Mount Cases can take repeated drops, blows and soakings while protecting your gear. When it comes to electronics, nothing protects better than a Pelican-Hardigg™ Rack Mount Case. From the ultimate protection of the Classic Rack case, to the removable rack option offered by the SuperMAC™ Rack case, to the smaller footprints of the MAC Rack™ and ProRack™ cases, Pelican-Hardigg has the solution to fit your exact shipping and protection requirements.
All Pelican-Hardigg™ Rack Mount Cases boast rugged rotomolded exterior shells that withstand all kinds of abuse, drop after drop, in every environment - damage free.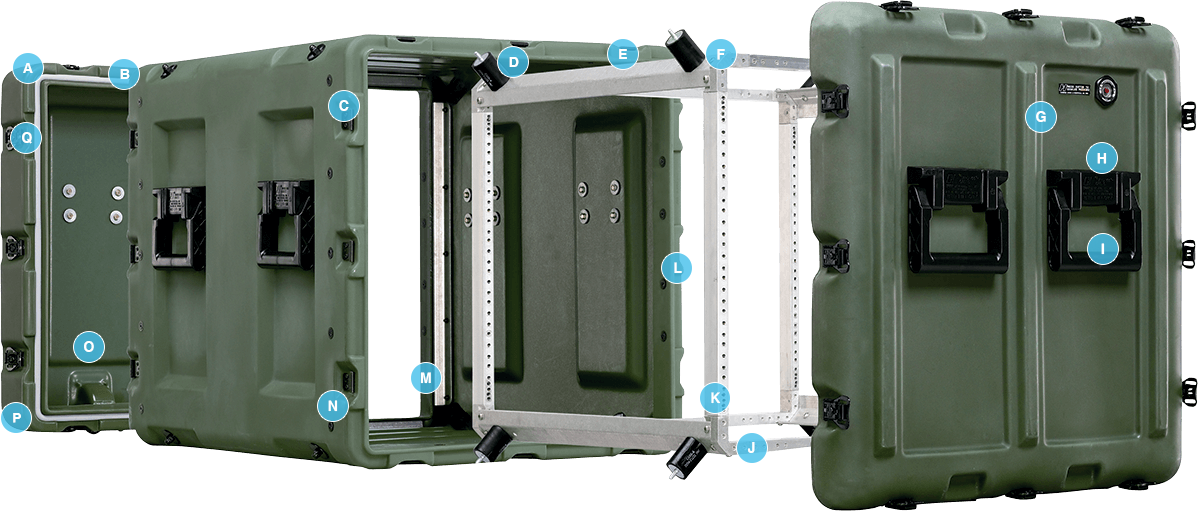 BLACKBOX ONLY BLACKBOX comes standard with rugged steel frame
Molded-in, tongue-in-groove gasketed parting lines seal
tight and remain so after impacts
Interference fit spiral spring pins in each corner for maximized structural integrity
Patented, molded-in metal inserts for catch and hinge attachment points provide
strength and spread loads to the container wall for maximum integrity
Designed to meet ANSI/EIA-310-C for universal rack mounting hole pattern
Molded-in male/female stacking ribs for secure stacking
Aircraft-quality, precision-tempered 6061-T6 aluminum provides a high strength-to-weight ratio
Patented, positive anti-shear locks prevent case lidsfrom separating from mid-
section even after impact –and minimise stress on hardware
Fully recessed hardware protected from external impact damage
Shock mounts provide excellent shock and vibration cushion for delicate
equipment
Exceeds Air Transport Association (ATA) Specification 300, Category I requirements
Molded-in ribs provide extra columnar strength
Reinforced corners and edges (high-stress areas) with 15 to 20% more material
One-piece rotoMolded body and lids
Splash and rain resistant – airtight/watertight available
Pelican-Hardigg's patented, wide-design, Comfort Grip Handles™ come standard
on most cases<
G Fragility Rating
The Lower the G Rating of Equipment = A Great Level of Protection Needed
The fragility of an item is normally expressed in "G" units. G Units are a measure of the force exerted on
bodies by the earth's gravitational pull. Products with a larger g-force rating require less protection from
shock and vibration. For instance, an item with 20 G fragility will suffer damage when subjected to a force 20
times that of normal earth gravity. The fragility of an instrumenet or piece of equipment is usually
determined by laboratory testing.
G-Rating Examples
Pelican-Hardigg™
Classic Rack Case
Used for extremely delicate and heavy diagnostic equipment that needs to travel but cannot withstand shock or vibration
Pelican-Hardigg™
SuperMAC™ Case
Used for fragile equipment that needs to travel but cannot take shock or vibration. It also needs to fit a narrow space
Pelican-Hardigg™
MAC Rack™ Case
Used for moderately fragile equipment that needs shock protection and is used in a tight working space environment
Pelican-Hardigg™
BlackBox Case
Used for rugged, lightweight equipment so a photographer can get equipment to the job site
Pelican-Hardigg™
ProRack™ Case
Used for very rugged lightweight equipment that needs a travel case to keep it dry and dust free during transport
Classification Fragility

(shock and vibration levels)







(shock and vibration levels)
Extremely Sensitive 12 - 18 G's

Inertial Navigation Equipment (Gyroscopes)
Very Delicate
18 - 25 G's
Electro-Optical (101 - 152 mm)
Precision Test Equipment
Fragile 25 - 50 G's

General Electro-Mechanical
Medical and Biological Diagnostic
Tower Computers, Color TV Cameras
High End Rack Mount Electroncics, Printer
Moderately Fragile 50 - 80 G's

Solid-State Circuit Electronics
Radar and Microwave Antennas
Audio-Visual Projectors, Aircraft Engines
General Rack Mount Electronics
Rugged 80 - 120 G's

PC Boards, PC Monitors, Refrigerators, Microwave Overs,
Control & Metering Valves, Cameras, Emergency Rescue Gear
Very Rugged 120 G's and Up

Most Small Appliances, Pelican Flashlights, Tools, Guns
Cell phone 300 G's






Classic Rack

60 size >







SuperMAC

33 sizes >







MAC Rack

54 sizes >







Classic-V Rack

5 sizes >







Super-V Rack

11 sizes >







BlackBox

11 sizes >







ProRack

5 sizes >




2"

1"

0.85"

1.4"

1.4"

1"

N/A"

Heavy duty reinforced threaded aluminum frame




Steel rack with an industry-standard square hole pattern

(both AE and M6 clip nuts available)
Steel Threaded Rack

Aluminum frame with threaded clip nuts

3U, 4U, 5U, 6U, 7U, 9U,
10U, 11U, 14U, 21U, 26U

(call for 1U extension to any of these standard sizes)

3U, 4U, 5U, 7U, 9U, 11U, 14U

3U, 4U, 5U, 6U, 7U, 9U, 11U, 12U, 14U

3U, 4U, 5U, 7U, 9U

3U, 4U, 5U, 7U, 9U, 11U, 14U

3U, 4U, 5U, 7U, 9U, 11U, 14U

4U, 6U, 8U, 10U, 14U

20 - 340 lbs
(higher payloads can be engineered)

25 - 200 lbs

24 - 200 lbs

3U to 5U = 80 - 100 lbs
7U to 9U = 100 - 170 lbs

3U to 5U = 80 - 100 lbs
7U to 14U = 100 - 170 lbs

20 - 100 lbs

Up to 75 lbs

15 - 30 G

40 - 70 G

50 - 80 G

N/A

N/A

40 - 80 G

80 - 120 G

Extreme Heavy Duty

The best shock and vibration protection available

Medium/Heavy Duty Better shock and vibration protection

Medium Duty

Good vibration protection

Medium Duty

Better shock and vibration protection (up to 170 lbs.)




Light Duty

Basic transport and protection from the elements

Light Duty

Basic transport and protection from the elements

Cylindrical shock mounts isolate equipment
from vibration and the shock from impact forces

Solid rubber block shock mounts isolate equipment
from vibration and the shock from impact forces

Cylindrical shock mounts isolation equipment from vibration

Cylindrical shock mounts attached directly to the case wall to isolate equipment from vibration as well as impact forces.

Cylindrical shock mounts isolate equipment
from vibration as well as impact forces.

No shock mount system; aluminum rack mounted to case body

Shock & Vibration
Protection

Delivers maximum level of shock and

vibration protection in the widest range

of sizes and optional accessories.

Delivers a smaller width case body for space saving

but still includes shock and vibration protection.

Delivers a case with good vibration protection using shock mounts.

Offers good shock protection in a preconfigured

case for Off-The-Shelf purchases of 5 sizes

Offers good shock protection in a preconfigured

case for Off-the-Shelf purchase of 7 sizes

Offers a preconfigured case made of recycled materials in 7 sizes.

Provides a light weight, space saving case for protection

from rain, dust and surface impact.

Military Rapid Deployment, Memory Storage Devices,

Precision Lab Equipment, Calibrated Diagnostic / Testing Gear,

Aerospace Instrumentation

Military Rapid Deployment, Control Consoles/Panels,

Radar/Microwave Antennas, Solid State Electronics,

Television Communications Equipment

Miitary Rapid Deployment, Field-Deploy Applications,

Control Consoles/Panels, Broadcast Equipment




Industrial and consumer square hole rack applications.

These rack support both standard mount equipment (SAE or M6).

Radios and Amplifiers, Solid State Equipment,

Field Testing Equipment

Semi-Fragile Medical Equipment, Radios and Amplifiers,

Field Deployed Test Equipment

Fully Configurable

(Made to Order and Customizable)

Off-the-Shelf

(In stock and ready to ship)

Off-the-Shelf

(In stock and ready to ship)

Off-the-Shelf

(In stock and ready to ship)

Configurable and Made to Order